Blaze Foley (aka Deputy Dawg, aka Michael David Fuller)
Blaze told people he was from Marfa, Texas, and there may be come truth to that, we just don't know. But we do know that Mike Fuller was born in Malvern, Arkansas to Edwin and Louise Fuller in 1949 and spent most of his boyhood life in Texas, with his early childhood years in San Antonio and his late teens in Irving, near Dallas. (In fact, San Antonio's Robert B. Greene hospital is where Mike was successfully treated for polio, a serious, crippling disease at the time.)
We also know that at age 12 he sang and played guitar in his family's gospel trio, The Fuller Family, and they would be invited to sing in the churches they visited and at revivals. The trio began with Louise and her two eldest children, Doug and Patricia (Pat). When Doug got married, Mike took his place, and when Pat moved away, Marsha took her place, so they always had the trio. Pat and Mike both sang and played guitar and Doug and Marsha both sang.
Edwin didn't sing with them but he drove the family around, being a truck driver. Unfortunately, his demons quickly caused a split in the family, sending Louise and Marsha into hiding, away from Edwin, and Mike to Memphis, where he had aunts, uncles and cousins. But Mike had to flee again in 1971 when his father caught up with him. From then on out, his family hardly ever heard from Mike.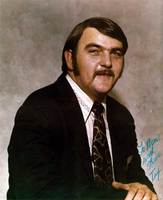 This period between 1971 to roughly 1974 is a mystery, Mike's "missing years." We know that he worked at W. T. Grants, a department store somewhere in Texas. He was overweight and unhappy.
At some point, he quit his job and began traveling, eventually ending up in north Georgia where his father's family lived. He became a roadie for a progressive bluegrass band, Buzzard's Roost, who played a kind of "bluegrass on acid" style. He was still overweight and wore a wide brim hat, earning the nickname "Deputy Dawg" by the band.
He quit his job as a roadie, shortened his nickname to Deputy and began performing in Atlanta, playing and singing songs by Hank Williams, Red Foley and John Prine. The band he performed with was hired by the owner of The Banning Mill, or "The Mill," in Carroll County about an hour west of Atlanta in a rural area. The Banning Mill was an old textile factory that at one time was powered by the river but was now a bistro/theater/artist colony where Deputy became part of the house band.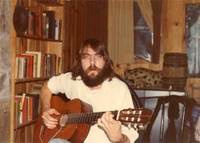 Why did he change his name and not go by Mike Fuller? Even in the W. T. Grants photo he signs it, "To Mom, Love Tex." Did he not like his given name? Was he reinventing himself? Was he trying to make sure his father couldn't track him down again? Who knows. Why did he end up in Georgia among his father's family? Did he feel it was the safest place to hide, that they would protect him or his father would never visit them? Again, who knows. We only know that he was unhappy being just a roadie, hanging around bands but never being asked to perform. Perhaps the most remarkable change was his weight. When he moved into The Mill, he was a slender, handsome cowboy hippy, turning people onto John Prine and having the time of his life.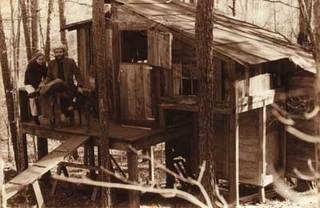 At The Mill, Deputy became close friends with the resident artists, hippies and philosophers living in Carroll county. Alternative lifestyle nestled amongst the conservative culture of the south, an uneasy arrangement. The Mill was a short-lived experiment but during this period Deputy met Sybil Rosen, a member of the resident acting troupe. When The Mill shut down in late spring, Deputy and Sybil moved into the tree house.
The tree house was even more remote than The Mill and was the perfect place for both a budding romance and songwriter. That summer, Deputy began to write songs that expressed love, wonder, excitement and humor. Political songs were in the mix and every new creation caused quite a stir among their community of friends. Sybil Rosen documents this period when Deputy, the musician, turned into Blaze, the songwriter, in her book Living in the Woods in a Tree: Remember Blaze Foley (UNT Press, 2008).
With a handful of songs and confidence, Blaze and Sybil moved from Georgia to Austin so he could begin his career in music. But Austin was a tough town for a sensitive but friendly hippy cowboy and Blaze had difficulty singing his songs of love and life in the Texas salons, where Waylon and Willie and Merle were establishing the alternative crossover genre. Blaze had a powerful version of stage fright at the time and hated when people talked and laughed while he sang, not paying attention to him.
So he left Sybil in Austin and went back to Atlanta and Carroll county to gig some more and build up a following and more confidence. This was a heartbreaking time for him, as evidenced by the letters he wrote to Sybil. At first, he was a bit unsure of their future together but convinced that songwriting was his calling. As the months progressed, his determination returned and he finally knew, absolutely without a doubt, that they were meant to be together and should move to Chicago. (He knew Chicago was where his hero John Prine had his start. Blaze credits many artists as musical influences, but acknowledges John Prine's Billy the Bum as the earliest inspiration for him to write his own songs.)
In Chicago, the stage was set again as in Austin: cold, indifferent club patrons, more interested in socializing than paying attention to a newcomer songwriter playing happy hour who wasn't able to command the stage (at least not yet, that would come later). He left Chicago and wandered back and worth, through Wisconsin, back down to Texas and back to Chicago to see Sybil. During one of these periods away, Blaze wrote his signature song, If I Could Only Fly, and returned to play it for Sybil. Soon after, he left Chicago for good, in 1975.
It's not clear, but it's likely that Blaze wrote his next well-known song Clay Pigeons following his breakup with Sybil. John Prine recorded this song in 2005, 30 years later.
h3. MORE TO COME …