Documentary Booking
We've made booking the Blaze Foley Documentary Event easy.
Presented by the Filmmaker in person
We can create a micro-cinema experience in your venue.
All we need is a sound system (one microphone and 3 DI boxes on stage).
Setup time is typically 30 minutes. Sound check typically takes less than 15 minutes.
Order is: film first (60 minutes), Q&A, break, then Gurf performs (45 minutes).
The micro-cinema is created with portable, state-of-the-art HD player and projector.
After the film, people feel great! It's a tragic story that is funny and uplifting.
Gurf's performance is sublime, you can hear a pin drop (so we need a "listening" room).
We trust you to know your market, ticket prices can be $20 per person in larger markets.
Equipment we need at the venue:

PA and/or mixer
1 microphone
3 DI boxes
Speakers with monitors
Projector screen a plus but not absolutely required
That's all! We provide the rest (we bring the HD player and HD projector)
The filmmaker with Gurf Morlix
The director presenting the film and Gurf Morlix performing the songs of Blaze Foley is our most popular show (we did 72 shows in 2011 in the US, Canada, and Europe). Gurf Morlix is an award-winning Americana artist with solo projects and a lengthy resume of critically acclaimed album production and collaboration work with Lucinda Williams, Mary Gauthier, Ray Wiley Hubbard, Sam Baker, Ray Bonneville, and many others.
Technical Details
I arrive with the film on my MacBook Air, an exceptionally reliable playback device. I connect to my projector via HDMI, or can connect to your projector via HDMI or VGA. I prefer to use my own projector since I know it works well with the movie, but I have no problem using your projector if it's as good or better than my projector. For my projector, I typically need to set the projector about ten feet in front of the screen and need to connect to your sound system via RCA or 3.5mm stereo jack (headphone jack on the MacBook).
Booking Agents
For Sweden, contact Björn Pettersson at Rootsy. For US, contact booking@blazefoleymovie.com. For Canada, contact Martyn Hill. For continental Europe, contact Joanna Serraris.
Gurf Morlix sings Anything Less by Blaze Foley
Recorded at Communitea in Canmore, Alberta as part of the June 2011 "Gurf Blazing Across Alberta" tour.
Film Trailer
Gurf and Blaze orange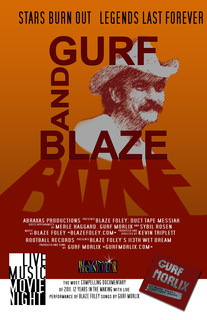 Orange poster for the Gurf and Blaze event
Other configurations
For literary events, we can show the film in conjunction with award-winning author and actress Sybil Rosen, reading from her memoir "Living in the Woods in a Tree: Remembering Blaze Foley" published by North Texas State University Press. Sybil has performed with the film throughout it's release from NYC to LA.
If you have local musicians who are fans of Blaze's music, booking the film with their performance makes for a great event.
Want to bring the film to your town?
The best way to bring the film to your town's theater is to talk with the theater manager and request the show. It's far more impressive to the theater operator if fans are requesting the film, rather than me contacting the theater. Theater owners always want to rent the theater to me but if they see there's an audience for the film, they'll be more far more receptive to booking the film. Contact me for ideas on how to pitch the film to your local theater.
Film Specifications
For non-traditional screenings (locations that are not a movie theater, like a house concert series), we typically bring a top-of-the-line High-Def projector and screen. But if you want to show it yourself, here are the film specs and event configurations:
Available on BluRay,

DVD

, or QuickTime file
Other formats like DigiBeta or

HDCAM

available on request (with additional cost)
Event can be film only, film + live music, and film + book reading
Runtime is 79 minutes (film only) and 59 minutes (film + music or film + book)
We can help you book live music acts (Gurf Morlix is our most popular act)
Book reading by award-winning author Sybil Rosen from the memoir of her time with Blaze
Q&A by the filmmakers on request
The film is very popular with fans of songwriters and Americana roots music. We tell people the film is about "Murder, Music and Mayhem" and even though it's a tragic tale, it's funny, inspiring, and energizes the audience. Whenever we show it, venue owners are very happy with the results.