OTHER LANGUAGES
German: Film information (in German), including synopsis.
TITLE
Blaze Foley: Duct Tape Messiah
GENRE
Feature-Length Music Documentary
TAGLINE
Stars burn out, legends live forever.
SYNOPSIS
Blaze Foley was shot to death in 1989, defending an elderly friend. The duct tape loving songwriter-musician was homeless and died with no records, but plenty of recorded material. More than 20 years later, his legend is growing with eight solo albums posthumously released and covers of his heartfelt songs by Willie Nelson, Merle Haggard, John Prine, Nancy Griffith, and Lyle Lovett. Lucinda Williams wrote Drunken Angel about the doomed poet and Townes Van Zandt wrote Blaze's Blues for his running buddy. Born in a tree house, killed in a friend's living room, and 86'd from his own funeral, the bigger-than-Texas Blaze Foley is now a bona fide legend. The sad, funny, and beautiful story of a tragic life well lived is brought into sharp focus in this film.
FILMMAKER BIO
Kevin Triplett grew up in a family of photographers in Texas. He made films in childhood until the local department store stopped selling Super8 film cartridges. He went on to study electrical engineering, became a software developer, and worked all over the southern United States before landing in Austin where he rekindled his love for motion picture storytelling with DUCT TAPE MESSIAH. He is currently working on a short documentary about a celebrated software programmer who committed infosuicide in 2009.
RUNTIME
78 minutes
YEAR COMPLETED
2011
FORMAT
HD, 1080, 1.78:1
LANGUAGE
English
PRODUCTION PERIOD
January 2001 to June 2010
FILM FESTIVALS
SXSW Official Selection 2009
Memphis On Location Official Selection 2011
Chicago International Movie and Music Official Selection 2011
NXNW Official Selection 2011
IDFA Play Competition 2011
Athens International Film Festival Official Selection 2011
EXHIBITION AND DISTRIBUTION
The film is being shown via non-traditional theatrical exhibition with Gurf Morlix, award-winning musician-songwriter who is also featured in the film. The filmmaker sets up a micro-cinema in songwriter music clubs to show an hour long version of the film then Gurf Morlix performs a full set of songs written by Blaze Foley. The show is very successful with 137 screenings in 2011 alone for 5,530 people in the US, Canada, Brazil, and Europe.
PROMO PHOTO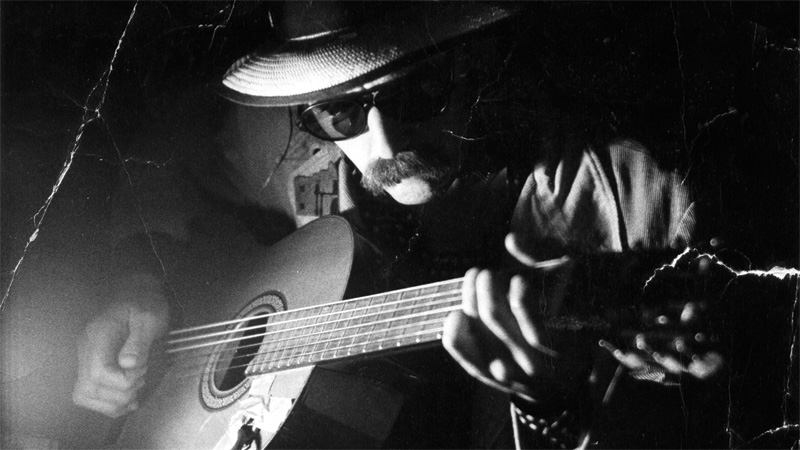 Film Stills
Click on any thumbnail below to get a hi-resolution version. (Unless otherwise stated, photos are courtesy Abraxas Productions.)
Production Stills
Click on any thumbnail below to get a hi-resolution version.
Kevin Triplett no smile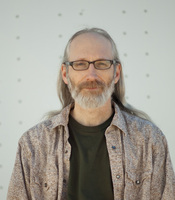 Director/Producer not smiling
Kevin Triplett smiling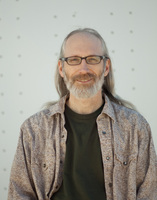 Director/Producer smiling
Mike Nicholson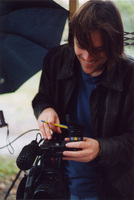 Director of Photography, Motion Graphics and Co-Producer